Celebrity and Subject Matter Expert Endorsements for Craig's Book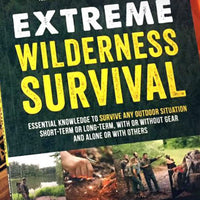 Writing a book is a huge undertaking and one that brought me many surprises.  One of those was the process of gathering endorsements for Extreme Wilderness Survival by yours truly.
When I turned in the manuscript on May 30, 2016 to my publisher (Page Street Publishing distributed by Macmillan Publishing) the largest part of the book was complete and I was ready to take a breather.  I did that for about a day (I never have been one to set on my laurels) before I started into my other responsibilities of gathering endorsements for the book.
On the first day sans writing content, I put a list together of those that I wanted to attempt to get an endorsement from.  These were all individuals that I respect for various reasons.  Watch this video for details of who they are and more on how all this came about.  Please note that due to space in the book we did not have the opportunity to print in full the endorsements I received.  Therefore, below the video here you will find those endorsements in full.
Creek Stewart
EJ Snyder
Tim Farmer
Mykel Hawke
Jim Cobb
Rodney Van Zant
Mike Hull
Craig Caudill is the Founder and Chief Instructor of Nature Reliance School. He specializes in teaching outdoor related topics to include, survival, tracking go-bags, nature awareness and gun safety for private and public groups, and government agencies. Craig is a frequent  contributor to TV outlets, blog sites, magazines and is a popular online outdoor educator on Carbon TV,  and YouTube via the Nature Reliance. 
Craig's first book, Extreme Wilderness Survival from Page Street Publishing, distributed by Macmillan Publishing will be available in March 2017.  Pick up the book, or join Craig in a class so he can help you be safe
Share This