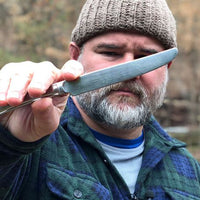 I have had a theory for many years that I could take a common dinner knife from my kitchen drawer and be able to accomplish some fundamental bushcraft tasks with it.  However it was just that, a theory.  I finally decided to give it a whirl, and, do so on camera.  I wanted to do this because it seems that knives can be an incredibly decisive topic of discussion in the bushcraft community.
It is an obvious point that good knives can accomplish many things in a wilderness environment.   I purposely handicapped myself in this situation by choosing a knife and not sharpening it at all. Since we never use this sort of knife for cutting tasks at my house, this and our other knives like it, are dull.  I am talking duller than a three hour lecture on the merits of pudding.  (Translation, that is pretty dull).  We have better knives for the purpose of cutting up dinner.
To be as transparent with you as possible, part of the reason I did this is because of what I see happening on youtube and other social media platforms on a regular basis.  I dont watch a lot of what is out there on youtube.  Mainly because when I do, I see presentations made that are often disengenuous, sometimes spiteful, unethical, and often times, outright lies.  What I am referring to is this, Youtuber A presents his/her favorite knife, batons and makes a firestick with it and calls it the greatest thing since sliced bread.  That is until they are sent another one or present another one in their line of knives for sale.    I suppose they think we are all stupid.  I for one am not stupid.
With that in mind I took to the woods to see if this dull dinner knife could get some work done.  Watch the video below to see how it turned out.  Also, read on below the video and see some further thoughts of mine on knife companies and those that I recommend.
There are many reasons to support a knife company.   Here are a few examples of those that I like and reasoning why:
Someone reading this might say, "You like those knives because the makers have given you products.".   Let me allow you in on a little secret.   You are correct and I am not ashamed to admit it.   These companies have supported me and my students with products, information, and assistance so I therefore continue to support them when and where I can.
I would ask you this.  What have the knife makers that you know, done for you and the community of people you train with?  If you can answer that they have offered knives to train with and try out, then by all means support them please.  If all they ever do is present another knife to you, assume you are ignorant about what they are doing, and then ask you to buy yet another style, make or model.   Then please consider another maker or brand.  They are not there to support you, they are around to support themselves.
You might be better served by sharpening up a dinner knife from the kitchen.
Craig Caudill is the Founder and Chief Instructor of Nature Reliance School. He specializes in teaching outdoor related topics to include, survival, tracking, nature awareness and more for private or public groups, and government agencies.  Craig's first book is Extreme Wilderness Survival from Page Street Publishing, distributed by Macmillan Publishing.  Craig's second book, Ultimate Wilderness Gear, is coming in July 2018 and can be pre-ordered now!
Craig is a also frequent  contributor to TV outlets, blog sites, magazines and is a popular online outdoor educator on his YouTube channel.  Pick up the books, subscribe to him on youtube, or join Craig and the other NRS Instructors in a class so they can help you be more safe and aware in the outdoors.
Share This