Do you want to die? Get ready to fight and survive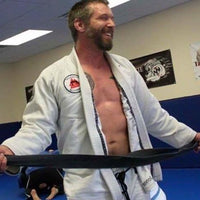 I have had the good fortune of working with some of the finest people this planet has to offer.  Dr. Brian Jones is one of those people.
Brian is the owner and lead instructor of Valhalla Academy in Frankfort, Kentucky.  He is also the administrator of one of the fastest growing and most popular Brazilian Jiu-Jitsu websites available today, Old School Jiu Jitsu.
Brian was kind of enough to sit down with me for two episodes of The Survival Show podcast.  In Episode 1, (click the link to listen) we discuss fitness as it pertains to survival.  Brian tells about his background and education which explains why I believe he is a go-to source for this knowledge.  We then get into the nuts and bolts of practical fitness and how you can improve yourself no matter where you find yourself on the fitness scale.
In Episode 2,  (click the link to listen) Brian and I talk about being fight ready and how Brazilian Jiu-Jitsu plays an integral role in how he knows he is ready.  I have taught martial arts for over 20 years now and Brian is one of the people that I go to for insight into martial arts, combatives, and defensive tactics.  You do not want to miss either of these podcast episodes..
Craig Caudill is the Founder and Chief Instructor of Nature Reliance School. He specializes in teaching outdoor related topics to include, survival, tracking, nature awareness and more for private or public groups, and government agencies.  Craig is the author of three books, Extreme Wilderness Survival, Ultimate Wilderness Gear,  and Essential Wilderness Navigation (co-authored with Tracy Trimble) from Page Street Publishing, distributed by Macmillan Publishing.  
Craig is co-host The Survival Show podcast, is a frequent contributor to TV outlets, blog sites, magazines and is a popular online outdoor educator.  Pick up the books, subscribe to him on Youtube, or join Craig and the other NRS Instructors in a class so they can help you be more safe and aware in the outdoors.
Share This