Five tips for tick prevention and avoidance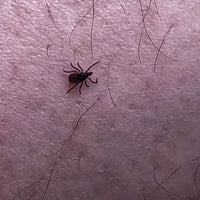 I did a a blog piece back in 2015 when I did some blogging for Dan's Depot entitled "5 Tips to Avoid Ticks".  That piece is still solid with good info in it, so check it out.  I also did a podcast interview last year about this topic that you can find at this link.
What I did not do in that blog and video is show how to apply and utilize permethrin.  I put this video together to do exactly that.  It also contains some new and varied info in it that I have come across since 2015.
Craig Caudill is the Founder and Chief Instructor of Nature Reliance School. He specializes in teaching outdoor related topics to include, survival, tracking, nature awareness and more for private or public groups, and government agencies.  Craig's first book is Extreme Wilderness Survival from Page Street Publishing, distributed by Macmillan Publishing.  Craig's second book, Ultimate Wilderness Gear, is coming in July 2018 and can be pre-ordered now!
Craig is a also frequent  contributor to TV outlets, blog sites, magazines and is a popular online outdoor educator on his YouTube channel.  Pick up the books, subscribe to him on youtube, or join Craig and the other NRS Instructors in a class so they can help you be more safe and aware in the outdoors.
Share This