How to have fun with some kayaks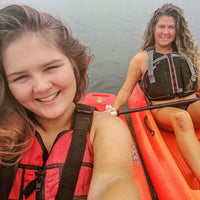 At Nature Reliance School we play outside as much as possible.  NRS instructor Tracy Trimble and his family recently spent the day out on Cave Run Lake here in Central Kentucky.  He took a camera along and decided to share some of the trip with us.  
Tracy put in the video that it is not educational.  He may feel that way, but I feel it is certainly educational and encouraging.   This video is simply a good way to
have fun and shows one of many methods to encourage families to be stronger, and adults and kids to get out. In essence, disconnect from cell phones and connect into the outdoors.  
We hope this encourages you to get out with you and yours as well! Water, woods, or wilderness you determine the spot.  Come on, join in, let's learn together!
Share This