Knot tying fix – whipping knot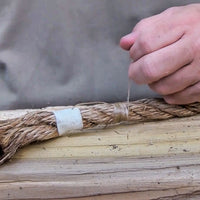 How many of you have frayed or fraying ropes and do not use the because of those reason?  We have a fix for you.  In this video Craig shows you how to tie a whipping knot to fix those frayed ends.  In the process he makes some cute little brooms.  Enjoy!
Craig Caudill is the Founder and Chief Instructor of Nature Reliance School. He specializes in teaching survival and preparedness which includes, go-bags, land navigation, and tracking for private and public groups and government agencies. Craig is a frequent survival and preparedness contributor to TV outlets, blog sites, magazines and is a popular online outdoor educator on Carbon TV,  and YouTube via the Nature Reliance and Dan's Depot channels. 
Craig is also a well respected martial arts/combatives instructor with over 20 years experience and has advanced rank in both Judo and Aikido. Forever a student,  including all things gun-related, Craig is always at work improving his mindset, skills and tactics for all he endeavors.  His goal is to always help others develop their mindset and critical thinking skills so they can think on their own and for themselves.
Share This