We are an LT Wright Handcrafted Knives Ambassador!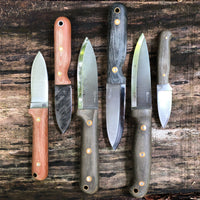 Wow, just wow!  We are very excited to be one of a handful of ambassadors for  LT Wright Handcrafted Knives (LTWK).  This new recognition is going to prove to be good for us and for those of you who follow and support Nature Reliance School.
First off LTWK has sent us a sampling of the knives that they offer.  These blades will be available for you to take a look at, and more importantantly, use at any of our classes on our calendar.   This is a great way for you to get your hands on them to feel the quality of craftsmanship that LTWK puts into these great blades.
Secondly, this also means that anyone that is a friend, family, or supporter of Nature Reliance School will get a discount when they order any item from LTWK.  When you contact them, just tell them Craig Caudill from Nature Reliance School sent you.  If you do that they will take care of you.
Last, this will give you an opportunity to do business with LTWK for the first, or another, time.  You will discover why I have been a fan and supporter of their knives, loooong before this ambassador recognition came along.  LTWK is a family of people that do business right.  Integrity and great customer service are words that will come to mind after you do business with them.
I am kicking this off with a live feed on Facebook on April 12,2018 at 8:00pm EST.  After the live event, we will upload the video to Youtube as well and post it here.
The following list is the knives that I discuss in the video and links to each of them for your convenience.  Check them out or join us for a class and get your hands on them.
Craig Caudill is the Founder and Chief Instructor of Nature Reliance School. He specializes in teaching outdoor related topics to include, survival, tracking, nature awareness and more for private or public groups, and government agencies.  Craig's first book is Extreme Wilderness Survival from Page Street Publishing, distributed by Macmillan Publishing.  Craig's second book, Ultimate Wilderness Gear, is coming in July 2018 and can be pre-ordered now!
Craig is a also frequent  contributor to TV outlets, blog sites, magazines and is a popular online outdoor educator on his YouTube channel.  Pick up the books, subscribe to him on youtube, or join Craig and the other NRS Instructors in a class so they can help you be more safe and aware in the outdoors.
 Share This