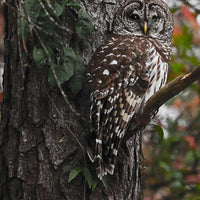 NOTE:  This is one in a weekly column series, originally written for The Winchester Sun.  They are often heavily edited for space.  Therefore we will offer them in their entirety here.  They will often have local references since they are written for the local paper. 
As with all adventure that takes us outside, one thing that many of us go there for is to see more. Some of us want to see more wildlife for photography, hunting, or pure viewing pleasure. Others of us enjoy the plants and trees. We may just want to know what species they are for the sake of knowing. We may also want to use them for food, shelter or medicine. Whatever our reasons are, we need to be able to open our eyes a bit more while we are there.
There is a multitude of things that we teach our tracking/awareness students to help them see more, but for our purposes today I am only going to focus on three of them to help you get started. The first of which you need to be on the lookout for which is movement. Due to the way our eyes work they are very good at detecting movement. So are the eyes of the other animals out there. If you want to see more, learn how to stop and take it in all on a more regular basis. If you stop and simply look around, your eye is more apt to see more and the other animals that are out there will be less likely to see you. This past deer season I spent one day walking and stopping often to see more deer. I was able to see more deer laying in their day beds than usual. Had I just kept walking, they would have let me walk right by them. To summarize, stop, look and listen as often as you can.
Secondly, we need to understand the terms baseline vs. disturbance. This applies directly to the photo attached to this article. If you look closely you will see that the bark of the tree has a certain pattern to it that is baseline. The owl has a similar color but different pattern, that is the disturbance to the trees baseline. If you train your eyes to look for it such things you will begin to see more owls, special species of trees and so much more. An example is persimmon trees in the wild. Nearly all wildlife enjoy persimmons and they will develop patterns to go by them in their daily travel, even when they are out of season. Therefore, if you train your eye to see the dark, "blocked" bark of a persimmon tree, you will notice it even on a walk or hike. By recognizing such species that are wildlife friendly, you are more likely to see more wildlife.
Third and lastly is what I call regularity. Think of the tread patterns of a vehicle tire on the ground. You will see regular occurrences of a tread lug within it. Tracks work the same way. Human step length averages around 30 inches. If you see a left foot track, the next right foot track will be about 30 inches ahead and slightly right on the direction of travel line you are following. The other day my wife and I were out making videos for Facebook and YouTube. She is an artist and so she often sees things in nature that I cannot. I pointed out a set of deer tracks that indicated the deer had run through the area. Once she saw those tracks, it was very easy for her to see the bounding pattern of the deer as it left other sign in the area. By recognizing the regularity of the patterns, she pointed out some from a distance that I had not previously seen.
As I stated earlier, there is a multitude of things that will help us see more in the outdoors. I am sure I will continue to visit this subject often as tracking and nature awareness of this sort are keen interests of mine. The more I share with you, the better I myself become at seeing things as well. Thank you for that. I hope to see you on, or off, the trail sometime soon!
Craig Caudill is the Founder and Chief Instructor of Nature Reliance School. He specializes in teaching outdoor related topics to include, survival, tracking, nature awareness and more for private or public groups, and government agencies.  Craig's is the author of three books, Extreme Wilderness Survival and Ultimate Wilderness Gear,  and Essential Wilderness Navigation from Page Street Publishing, distributed by Macmillan Publishing.  
Craig is a frequent contributor to TV outlets, blog sites, magazines and is a popular online outdoor educator on his YouTube channel.  Pick up the books, subscribe to him on youtube, or join Craig and the other NRS Instructors in a class so they can help you be more safe and aware in the outdoors.
Share This