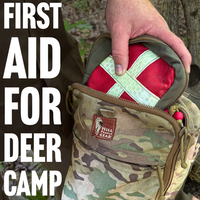 Note:  This article was written for an online blog site two years ago.  It was not published so I am running it here.  You can also check out this pdfwhich is a piece I wrote for a magazine quite a while ago.  Also check out this blog piece on kits which include some first aid kits
Camouflage, chili, guns, or bows are staples at almost every deer camp. However, a comprehensive first aid kit and the know-how to use it are often lacking. Humans are inclined to become complacent about potential dangers. This makes investing thought and resources into first aid preparations essential, ensuring that you're well-equipped during deer camp. Like other survival aspects, we must consider preventative measures and responses and secure the best gear available.
Preventative Measures
Considering the following can highlight the importance of prevention:
Always adhere to the four fundamental gun safety rules without exception.
Be cautious and deliberate when using tree stands. Ensure you take safety precautions seriously and use harnesses to prevent falls.
Verify your cell service coverage. If 911 isn't accessible, save emergency numbers or use radios for communication.
Any time you use a knife, saw, or axe for any reason.  Respect your tools, dont use them haphazardly.  
Reactive Measures
There's no excuse to bypass basic first aid and CPR training, given the numerous affordable options organizations like the American Red Cross and the American Heart Association provide. Often, these courses might even be sponsored by workplaces or similar entities. Learning basic first aid isn't challenging; a little knowledge can be lifesaving.
A more advanced class than Basic First Aid might be necessary for situations involving severe trauma, such as deep lacerations or gunshot wounds. The "Stop the Bleed" program teaches individuals to provide immediate care using the right equipment for such injuries. Again, some fundamental techniques and gear can make a significant difference during a hunting mishap.
Essential Gear
Cuts and Wounds: Injuries can range from minor to major. Small untreated wounds can lead to infections. Always use sterile gloves for first aid and during deer field dressing to prevent bacterial contamination. Ensure minor wounds are cleaned and covered with sterile bandage strips. Remove debris, pack the wound with gauze, and use tape to secure it for more profound or significant cuts.
Eyewash: Essential for deer hunting trips. It helps in safely removing debris from the eyes.
Triangular Bandages: A versatile first aid item for soaking up blood, securing splints, or immobilizing sprains.
SAM Splint: An essential piece for supporting sprains or breaks, it's lightweight and purpose-designed.
Burn Dressings: Crucial for treating burns, preventing them from drying out and getting infected.
Specialty Medicines: Ensure you carry necessary medicines and devices (like Epi-pens) for specific medical conditions and ensure someone knows how to administer them.
Trauma-Kit Items: Includes hemostatic gauze, tourniquets, and chest seals. These require proper training to ensure effective use. Counterfeit tourniquets should be avoided, with reputable brands like CAT and SOFT recommended.
Conclusion
First aid isn't exclusively for medical professionals. It's a skill everyone should possess. It's distressing to see loved ones needing medical aid and feel helpless due to a lack of knowledge or equipment. Equip yourself with the necessary training and gear for the next deer camp.