Ten Health Benefits From Cold Weather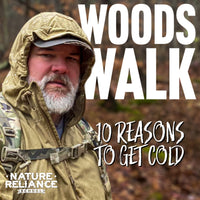 Editors Note:  We are transitioning most of our content to our NRS Online Membership, I explain why in this video, and this video.  We will continue to offer free content such as this, sparingly on our blog and social media platforms.  If you want in depth written, video content along with one-on-one discussions with Craig and other Instructors from NRS, join the membership
I recently read an article on ten surprising benefits of cold weather.  I decided to share them with you here.  I used the ten points as a jumping off point for some of our outdoor pursuits such as hunting, survival training, hiking and more.  In shortened form here is the list, click on the links for the research attached to each of these. Look below for my video on this subject as well as a book at the bottom, that is also integrated into this mindset development.  
It lessens issues with allergens
Ice Packs and Cold Weather, lower inflammation
It can lower risk of diseases
Wim Hof has gotten famous discussing cold weather and breathing practices.  There is plenty of information out there for you to see if that fits you or not.  Various cultures have utilzied cold weather as a means to grow people's mental fortitude for hundreds (perhaps thousands) of years.  It is definitely a rabbit hole worth digging into.  
Here is my video:
For another great resource that goes very well with this subject consider how you breathe.  It seems like a simple subject but, it is not a simple subject.  This book covers this subject in great detail.  Click on the graphic of the book for details.