Nature Reliance School Instructor Cadre Book List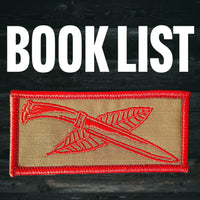 This blog was put together by Nature Reliance School Director, Craig Caudill.

The Nature Reliance School (NRS) Instructor Cadre is a group working together to develop leadership skills that we can utilize in our work, homes, communities, and, obviously, NRS.

Part of our development has been a monthly book we all read on our own, then discuss at a regular monthly meeting.  Several folks have asked what we are reading, so they can join in with us.  This blog piece will be updated every time we pick a new book, so check back to see what we are up to.  There are many reasons why each of these books is chosen but I will try to summarize a brief statement about each.  
In Extremis Leadership - Thomas Kolditz
This book was chosen mainly because it discusses and details how to be a good leader in stressful conditions.  Since much of what we teach is teaching others how to do precisely that, we used it to continue our growth.  
Extreme Ownership - Jocko Willink and Leif Babin
The obvious reason here is that this is a NY Times Bestseller for a good reason.  Several of our cadre had already read this but liked the idea of reading together and discussing it.  The discussions centered around how we should not hide from responsibility but own our successes and our failures.  To accent only the former and not the latter does a disservice to those we lead. 
This is another book that a few of our cadre had already read and liked it.  Not to mention that the author, Greg Everett, attended one of our classes and proved that he practices what he preaches about being Tough.  At NRS, we discuss mental strength as it is proven to be a key in determining who lives and dies in many situations.  This book is exploding at its seams with great information related to both mental and physical conditioning.  
Deep Survival - Laurence Gonzalez
As of this writing in December 2022, this is the book we are currently reading, I will update here with some comments after the cadre discuss it.  I have been recommending this book to those interested in survival since NRS was founded in 2006, the same year this book came out.  It is fantastic.