The EBL Solar and Battery Power Supply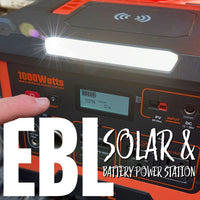 I recently picked up a EBL 1000W Portable Power Supply from the manufacturer.  Portable Power is quickly becoming affordable and useful in emergencies, camping, hunting trips, and more.  
I have had this particular unit for about two months now.  I have used it, our NRS students have used it, my wife has used it at home, and I have been incredibly pleased with it thus far.  
Look below the video to see detailed links on how you can save a ton of money by getting one.  In this video, I offer some of the specs and how I have put this thing to use.  Some of it was not surprising, but other aspects of it were very surprising.  Enjoy.  
1. Amazon link: https://amzn.to/3QKee68
Original price: $948
Coupon: $420 OFF
Code: EBLCODE1 (2% OFF)

2. EBL 1000W Power Station+2X 100W Portable Solar Panel Set link on Amazon:  https://amzn.to/3QMFwbM
Original price: $1399
Coupon: $400 OFF

3. EBL official website: https://www.eblofficial.com/collections/power-staion