Podcast #12: 2017 National Parks Search and Rescue (SAR) statistics.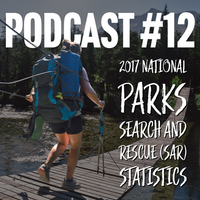 Statistical data will provide you with the where, when, and how search and rescue events develop, giving you a better understanding of how to prepare yourself for the outdoors. 
Click on the podcast player below to hear these statistics.  You can also see some of the statistics listed below the podcast player.  This information was collected from our national parks system from the year 2017.   
Lists showing some statistical data collected by our national parks
1. The most common activity requiring SAR assistance:
Day Hike - 42%
Overnight Hike - 13%
Boating - 17%
Swimming - 6%
 2. Most common location for SAR assistance:
Mountains between 5k and 15k feet - 20%
Mountains less than 5k feet - 15%
Canyons - 15%
Rivers - 9%
Beach / Shore - 9%
Forest - 7%
3. Most common factors contributing to the SAR assistance:
Fatigue / Physical Condition - 23%
Insufficient info / Poor Judgement - 19%
Factor Unknown/Unreported - 13%
Equipment / clothing / Experience - 4%
Inattention to Surroundings - 4%
Weather / Heat - 4%
4. Timeframe for subject being located by SAR:
Less than 24 hours - 93%
24 - 48 hours - 2%
48 - 1 week - 1%
1 week + - 1%
Not found - 3%
Original post/data provided by this article