Georgia Bushcraft Virtual Gathering 2020 - 3 Bs of Bushcraft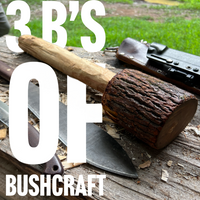 Adapt, improvise and overcome...we should all be better at doing this, it applies to so many things in life.  
I was invited to teach at the Georgia Bushcraft Spring Gathering that was scheduled for this weekend (Mar 28, 2020).  Due to the COVID19 situation, it was canceled.  However, Georgia Bushcraft decided to make gather of the instructors that were slated to teach and share some skills through a virtual meeting.  I am pleased to be one who decided to join in.  
I actually pre-recorded three videos in support of this effort I will be playing a couple of them during my time slot and answering questions.   The following are the three free lessons, I put together.  Following those videos are links to other opportunities to learn similar material.  
I
If you would like to join us for any of the classes mentioned in the videos then please check out our hands-on classes.  During these times where getting outside may be problematic, then please consider our online coursework.  It is a great way to learn some great stuff from home.