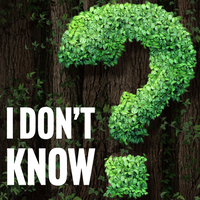 Information in this post is adapted from Extreme Wilderness Survival by Craig Caudill.

In modern-day survival and bushcraft circles, there is a tremendous amount of ego floating around. Instructors who have no business teaching others, students whose own skill sets are over-inflated simply because they have a large social media presence, or something as simple as "little man's disease", false bravado, or something similar. This community of people has forgotten how to say four little words, "I do not know.".

In Kentucky alone, we have several thousand species of plants and trees, and several hundred different mammals and birds. How could an outdoorsman even begin to be an "expert" in trees, tracks, or ecology? The fact is, there are more questions than answers when it comes to outdoor pursuits. That is why we need to be OK with not knowing all the answers, Instead, be inquisitive and questioning rather than pretending to be an all-knowing outdoorsman. Here are some hints to help us get past this idea of being all-knowing. This allows us to think more creatively when dealing with stressful situations both in daily life and in training. Which in turn helps us to be more prepared for survival situations.
(Detailed description of each of these appears on pages 28-31 of the book mentioned.)

Awareness of danger - be constantly on the lookout for information about your surroundings.

Learn the difference between cockiness and confidence. Statistics prove the former leads to injury and death, the latter leads to moving in an educated yet bold manner.

Own your mistakes and learn from them - 'Nuff said.

Paralysis by analysis is debilitating - be safe, but be prepared to move on actionable data rather than the fear of not knowing everything

Have humility - doing so assists you in learning and growing, not stagnating

Surround yourself with people better than you. - research is great but it is one-sided. Surround yourself with those who know more than you, and be inspired by their techniques and skills and make them your own.

On the other end of this spectrum, it does not serve the greater good to have a false sense of humility. This goes hand and in hand with helping others. To not speak up when questions are asked that you are familiar with, only shows your lack of confidence. A lack of confidence is a stumbling block to learning from others. Speak up, offer what you know and see what you can gain from doing so. It will most often be more than you will achieve by staying silent.

In summary be OK with not knowing everything, but also speak up about what you do know. The community as a whole will be better for it.