KING of knots – Bowline uses in camping, survival, and homesteading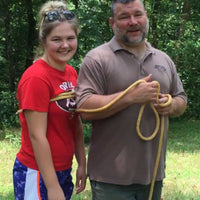 So many knots, so little time.
We love sharing the knot videos.  So much so that David from Ultimate Survival Tips asked us to collaborate with him on a few.  He has a video coming out soon in which I show several different ways to tie the bowline.  I don't care how you pronounce it as much as you know how to tie it.
In that video I did not have time to show some uses for the bowline.  I therefore, made another video for our own channel that details some uses for it.
Share This