I Fell 150 Feet and Survived.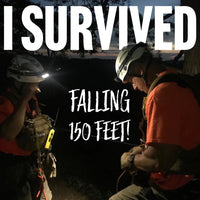 This blog piece was written to accompany a podcast interview by Tracy Trimble (NRS Instructor and search and rescue volunteer) in which he and Craig Caudill conduct a discussion with John May who is the Wolfe County Search and Rescue Chief and Mike Hackett (Assistant Chief WCSAR).  Listen in as John and Mark detail the incident of July 4, 2019.  An incident that found John having an uncontrolled descent and fall from a 200 foot cliff during a rescue event. The small errors that culminated that night are discussed in detail along with the medical help, rescue/raise, injuries, and recovery.  
The pictures below were provided with permission to include in this blog for those wanting to see the setup and night scape for the rescue.  
The best way to follow the Wolfe County Search and Rescue Team is on Facebook.  
For Nature Reliance Media's list of podcasts click here 
John and Mark Ryan just before John's descent.  
Mike Hackett on his descent to assist.
Team members rigging the basket for the rescue 
Topside with John in the basket after the raise.
John's hand several days after the incident.  
The device John references in the podcast.
The autoblock John had in the system.
The autoblock John had in the system.