Mountain Climbing for Beginners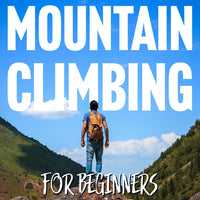 Editors Note:  This blog piece was written to accompany a podcast interview by Tracy Trimble (NRS Instructor and search and rescue volunteer) in which he interviews Mr. Mark Ryan.  Listen in as Mark details his background and some fantastic information on mountaineering (aka mountain climbing).  Look below the podcast player for photos that relate many important bits of information shared in the podcast.  
Mark Ryan is currently our training officer for Wolfe County Search and Rescue.  He has summited Mount Rainier several times as well as a single summit of Denali.  He currently holds an instructor status with Rescue 3 International.  Mark is a wealth of information for our SAR team.  Below are several pictures pertaining to his mountaineering events of which he discusses in our podcast episode #43.  Within these pictures is Mike Hackett, another member on the SAR Team.  
10,000ft Camp
11,000ft 
Camp Muir @ 10,000ft
8,400ft Camp
Mike Hackett @ 10,000ft
Mount Rainier Glacier Grossing
Mount Rainier Glacier Crossing
Typical Night Travel
Mike Hackett representing Wolfe County Search and Rescue.