The Ultimate Disaster Readiness/Survival Gear List Blog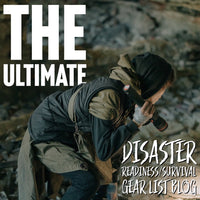 The time has come.  
I have been asked for over a decade now to put together a listing of gear that people should carry to be adequately prepared for disaster readiness and survival.  I have avoided it until now because, well, I find the task to be nearly impossible.  My needs, situation and geographical location are very different from everyone else's.  We all have to start somewhere though and that is what this blog post is about.  
I wrote extensively about how survival involves the four interrelated and mutually inclusive aspects of Mindset, Skills, Tactics and Gear in my first book, Extreme Wilderness Survival.  I wrote even more about wilderness and rural gear in my second book, Ultimate Wilderness Gear.  What is desperately needed is a distilled listing that can be used as a check list of sorts of items and their appropriate links for purchase.  This serves two purposes.  The first is that it can be used for you to do your own research develop a budget and more.  The second is that many of these sources are affiliates of ours and you can get cool discounts on some of these items (and we will pick up a few pennies for your purchase as well, thank you!).   Here is that list.  At the bottom of this list are other resources you may be interested in to develop appropriate gear. 
Safety and Security
Individual First Aid Kit Items (here is a podcast with more details}
Land Navigation Supplies
Thermoregulation
Water Filtration and Purification
Food Sources
Other important items
This listing is heavy on needs for a wilderness setting, but works well for shelter-in-place as well.  You should have extensive readiness supplies available to you in your home for disaster.  Always plan for takign care of your needs in that order safety and security, thermoregulation, water, food.  For several detailed checklists for car, home, on the go and more.  Check out the Tiny Survival Guide.  We included several gear checklists there.  Use the guide as a training tool, to help  you know what you may be missing in your disaster readiness. 
Check out our Youtube Channel for dozens of videos related to survival and disaster readiness.  
Check out our Podcast for dozens more episodes covering various aspects of survival and disaster readiness.