Observe a Flycatcher's Journey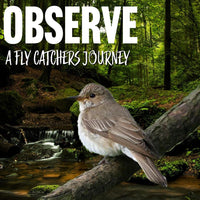 Please note that this was a portion of my upcoming children's book that was edited out in favor of another topic.   It was good info, so I turned it into this blog piece.  The intent of this future book is to show children how nature can guide them in observing important truths that are often missed.  
Location:  Kinclaven Bluebell Wood, Scotland
Introduction:  There are many small woodland areas near small and large cities that allow us to get away from our homes and enjoy nature.  Kinclaven Bluebell Wood in springtime is a great place to explore among mature trees and flowers and hopefully get a glimpse of animals and butterflies that frequent the area.   
Key Fact Box: The peacock butterfly will hibernate in or near the woodland in the wintertime, ready and willing to emerge in the spring along with the beautiful bluebells.  The spotted flycatcher has a much longer path back to Kinclaven wood after spending the cold winter months in northern Africa. 
Key Observations:
Adult peacock butterflies will hibernate all winter and emerge ready to feast on the beautiful plants.  In the winter, their undersides are a dull grey to match the buildings in which they hibernate.  In spring, they emerge with a beautiful color palette on their wings. 
The adult peacock butterflies have four large eyespots colored in their wings to ward off predators.  If you are hiking here and see one with these colors, you know spring has arrived. 
As spring arrives at the wood, the spotted flycatcher will come from the south.  They hibernate in northern Africa, so they must make the long journey home to the broadleaf forests that provide nesting areas from spring to fall. 
As their name suggests, Flycatchers catch numerous small insects as a food source to feed their young.  You will find the young comfortably in nests on the lee side of large trees and other areas to protect them from the wind and weather. 
Bluebells flowers love the sun and need it to thrive.  On southern-facing hillsides, you will find bluebells more numerous than you will on north-facing ones. 
If you spend enough time counting and pay close attention, you will also notice that bluebells need lots of water and will be more numerous in locations where there is sufficient water runoff for them to drink all they need to grow healthy and beautiful. 
Another item to find on your hike will be the twisted scat of the pine marten.  Scats are deposited to mark their territory, so others will not come into the area they call home. 
There are very few of these pine martens around, so count yourself special if you see one.  You will know because they have a beautiful yellowish/crème colored marking on their necks. 
Unlike the spotted flycatcher and peacock butterfly, the pine marten will make life in the wood all year long.  They make dens in the larger trees that are dying away and leave cavities in their trunks.  So even as they die, the trees offer shelter and life to many other animals. 
You can read this forest's management plan of this forested area at the link provided.