Small Backpack Inclusions That Will Save Your Sanity in Downtime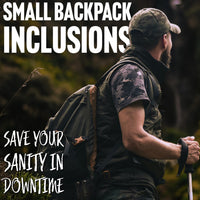 We have gone over some of the backpacking gear that it's essential to pack along for any prolonged outdoor excursion. From a map of the area, to a compact stove, to your knife and headlamp, there are a lot of items that you should have on hand for the sake of comfort and maybe even survival. What packing lists don't tend to focus on as much, however, is entertainment.

To be clear, we're not suggesting you pack an iPad in your hiking backpack, nor that you attempt to turn an excursion into more of a "glamping" situation. Hiking and camping are about making the most of the least, and enjoying the nature and company around you. With all of that said though, there are instances when you end up with unexpected downtime while out exploring. Perhaps rain strands you in your tent; maybe a trail is closed down and you spend an extra day at a campsite; it could even be that you're lost and waiting for help or to figure out your next move.

In any of these cases, it can pay to have a few little sources of entertainment packed away to keep yourself relaxed and — if the situation allows for it — have a little fun. So with that in mind, we have a few compact suggestions for items you can easily add to your pack.

Deck of Cards (weatherproof if possible)

You can't do much better than a deck of cards. It's light and easy to pack, and it opens the door to a wide range of games you can play with whomever you may be exploring with. Basic games like solitaire or "go fish" are easy options, but you can also delve into more casino-style card games, even if you don't have much experience in this area. Gala Casino ranks blackjack as the single most popular casino game in the world, partly on the basis that "its rules are relatively easy to learn." Players, including the dealer, are each dealt two cards, and then have the choice to "hit" (draw another card) or "stay" (stick with just two). The idea is to make your cards add up to more than the dealer's without exceeding a total value of 21. Poker, meanwhile, is similarly easy to learn with just a quick review of rules and processes (though there are a few varieties of the game). And even these examples only touch on what you can do with a deck of cards.

Notebooks

Packing up a notebook or two — again, weatherproof if possible — is another good way to make sure you have a way to entertain yourself and keep yourself busy in the event that you have unexpected downtime. For one thing, you can simply occupy yourself doing a bit of journaling or sketching, if these activities interest you. If you're in a group though, and everyone's looking for something to do together, you can also use notebook paper to set up an impromptu, Pictionary-like game. This game is essentially charades with sketching, and doesn't really require a board. You can all have a lot of fun sketching and guessing at pictures in the comfort of a cozy tent.

Carving Kits

There may not be a better way to entertain yourself while out on an excursion than to involve the nature around you a little bit. And one way to do this is by doing a little bit of carving or sculpting. This doesn't require any sort of cumbersome equipment, either. You can do a little bit of wood carving with a simple pocketknife (provided you have one that can stand up to some pressure), and a piece at The Spruce revealed that there are a number of different kits full of small tools that can also help you with this kind of crafting. Some of those tools are most appropriate for clay, but if you can dig up some hard clay in the woods, that's a fun option as well! Whatever your materials end up being though, having some small tools you can carve with is a great way to prepare for downtime.

Fold-Up Game Sets

Another idea more akin to the deck of cards suggested above is to have one or two fold-up game sets tucked away in your bag. Games like chess, checkers, backgammon, and Chinese checkers can all be purchased in miniature form, essentially as pocket-size, fold-up box kits. Any of them can make for a great night of fun with your hiking or camping group, if you wind up having a few isolated hours to kill.

Phone Charge & Projector

We're sticking to the point earlier that this isn't about turning some unexpected downtime into a glamping experience. But there is one way to embrace a bit of tech-based fun without going over the top. Pack away a spare portable phone charger just for entertainment, and invest in a pocket-sized phone projector as well. Then, before you take off, download a few shows or films to your phone (horror movies are particularly great when camping!), so that you're all set for a movie night if you want one. You need only plug in a phone, rig up a serviceable backdrop for the projection, and settle in. It's not the most in-touch-with-nature option, but it'll certainly kill a few hours in entertaining fashion.

There are more important things to plan for than entertainment in the end, and you should of course prioritize packing space accordingly. But just in case, it's nice to have some light and easy options on hand, and all of the suggestions above can work quite well.