Summer time is Paddling Time!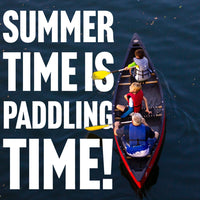 NOTE:  This is one in a continuing series of newspaper columns written for The Winchester Sun.  Due to this, it has local references that may be unfamiliar to our audience here.  
I will never forget getting into a canoe for the first time.  I guess my dad and his brother decided to do some fishing around Leatherwood Boat Ramp on Cave Run Lake.  I do not remember exactly why but they allowed my cousin and I to paddle around in the Grumman Canoe by ourselves.  They told us not to splash one another when we got in.  We followed that directive for about 3.5 seconds. 
If you have ever been to Leatherwood Boat Ramp, you know that it is a somewhat remote ramp compared to others on Cave Run Lake.  It is named Leatherwood because Leatherwood Creek empties into the lake at that location.  Our dads told us we could paddle up the creek.  Which was a bit out of sight.  That meant that my cousin and I were straight up on our own and adventuring, in a canoe no less.  We were out of sight, but it might have been the splashing sounds and the fact that we were soaking wet when we returned, that told our dads that we did not follow orders.  Playing in canoes and kayaks has been no different ever since.  Me plus paddling always ends up equaling fun. 
I have paddled whitewater in canoes, kayaks.  I have paddled flatwater and oceanwater in them.  I have fished out of them, hunted out of them, and had picnics in them.  I have waited out storms under them and so much more.  It only takes a little practice and some rentable equipment to get started.  Here are a few things you will need. 
An appropriate life jacket is a must.  My daughter has taught hundreds of kids how to swim in this community and one of her fond sayings for outdoor water safety is "Don't forget to pack it, wear your life jacket.".  Young or old this is important.  Life jackets, more appropriately known as personal flotation device (PFD) are a must and you should always keep them on when on the water.  With todays offerings this is a no-brainer.  They make PFDs of all shapes, sizes, colors, and comfortability.  You can easily find one that will meet your needs.  I retired an old PFD of mine last week because it had seen better days.  I picked one up from my friends at Canoe Kentucky in Frankfort.  They are great people and there is nothing they do not know when it comes to canoes or kayaks.  You should check them out online or stop in and say Craig sent you.
The next thing you need is a canoe, or kayak.  If you want to rent one locally check out Three Trees Canoe rental.  I have never used their services because I own my own boats, but I have heard good things from them.  I know they do some paddling on the Kentucky River which is quite beautiful and historic.    Otherwise, you can check in with Canoe Kentucky again, they have one of everything to try out and you can do so on the beautiful Elkhorn Creek. 
Canoes are open-decked, and you slit slightly off the water's surface.  This makes it slightly less stable than a kayak.  With that said with a little practice it is extremely easy to get the hang of being in a canoe.  The key is keeping your weight along the centerline of the boat.  Lean to either side and you run the risk of getting soaked.  Which quite frankly, I do not have an issue with.  I go to the water to get wet, not to stay dry.  You need to do you though. 
Kayaks are a bit more stable because your center of gravity is basically sitting at the surface of the water with your legs outstretched in front of you.  This is how my wife and I paddle now.  We have a couple of nice Jackson kayaks we got from Canoe Kentucky a couple of years ago.  We go to Leatherwood a few times a summer.  Our typical trip consists of a short paddle up the left side of the bank until we can find a one with some lake gravel.  We will park the canoes, put up a hammock or two, grill some burgers and play in the water.  It is one fine day out in the woods and on the water. 
For those of you reading who like to paddle, I know you understand.  Do your part to get someone involved in paddling.  If you are new to the idea of it, then make a go of it.  If you are renting a canoe or kayak, then the staff at those locations will give you the important safety discussion.  The rest of it comes from experience.  So, go planning to get wet and have fun.  Learn a new skill and get out and enjoy the great outdoors.  If you do, I bet you can guess what is going to happen right?  I will most likely see you on, or off the trail (on the water this time).