Six Habits of Trackers, That Can Help Everyone Including YOU!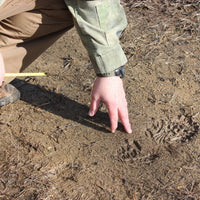 I (Craig) am fond of saying that I wish everyone was a tracker.  There are several reasons for this.  In this podcast I share some common habits that trackers develop that also equate to useful habits in daily life for everyone.  Look below the Podcast Player for a timeline of topics discussed in this podcast. 
00:30 Tracy shares some thoughts on golf and tracking
02:15 Laying out some fundamental ideas of trackers
03:15 Sponsors and affiliates mention?
04:15 A discussion of "that guy"
05:02 Breakdown of who studies tracking
05:49 Habit #1
06:52 Habit #2
08:15 Craig shares some personal issues that was difficult to share
09:33 Habit #3
11:35 Habit #4
13:40 Habit #5
15:00 Habit #6, an important question for you to answer, I hope I dont stump you with this one.
17:40 A call for your help that is FREE!